Fire and corrosion protection for defense applications

Svein Gabrielsen
Fire and corrosion remain two of the greatest threats in the defense industry, concerning the safety of personnel and also the performance and longevity of expensive military equipment and technology. The drastic effects that these environmental factors can have on board naval vessels, military tanks and submarines can be irreparable, leading to unsafe environments, downtime and high costs of replacement or repair. It is necessary to ensure that vulnerable areas and assets are effectively protected by trustworthy and durable systems. The idea of simply reapplying coating systems to a structure does not exist in this industry as many structures are incredibly difficult to access and severely disruptive to shut down.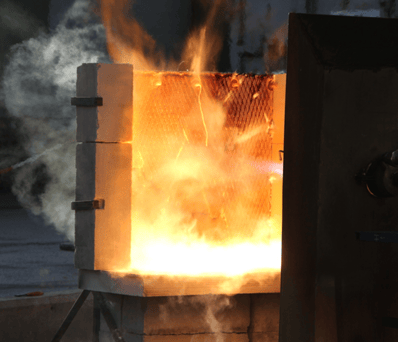 Surface protection solutions differ greatly and so do the specifications for each application. Whether you are looking into hang fire missile protection, thermal mitigation for naval ships, corrosion protection for pipes and decks or impact protection, there is a wide range of diverse materials and finished products to consider.
Thermal sprays
Spray on coatings are able to be applied with general ease however, there is usually a need for downtime due to chemical fumes spread and having to apply several layers. Spray usually provides a good level of adhesion to surfaces and resistance to chemicals and water. Due to the way in which sprays are applied, you are able to get into the smallest of areas and cracks.
Using this type of solution for thermal mitigation is an option, however, one must consider the implications of long-term cost, maintenance, repair and replacement.
Paint systems
Paint systems are commonly used in the defense industry, especially when applying on steel structures due to vulnerability to corrosion. Corrosion is irreversible, so it is recommended to apply coatings right away to save the most vulnerable metallic structures.
Whether the temperature is extremely low or high, paint systems can hold their strength for a limited time period. Paint systems have the ability to slow corrosion however, they do not have the ability to prevent it long-term without regular repair and maintenance. However, paints are known to crack easily, meaning corrosion very easily can occur within the cracks and destroy the overall reliability of the system.
Rubber
Rubber coatings can be argued to be the most durable and long-lasting, withstanding the highest grade of vulnerability to corrosion, fire, high and low temperatures, saltwater and other environmental challenges. However, when sourcing a supplier of rubber-based coatings for industrial level applications, it is essential that the materials are tested and qualified to the highest standard.
Generally, rubber-based materials are known to tolerate high levels of wear and tear before ever needing to be repaired or replaced. Due to the longevity of rubber-based materials, there is no need for regular maintenance, repair, replacement or downtime.
For example, choosing a rubber-based surface protection material such as Vikodeck, provides peace of mind knowing that;
You will encounter minimal downtime. Meaning operations can continue as normal with little interruption.
You will be supplied with an extremely durable, robust and flexible material coating with no need to worry about maintenance or repair, minimizing long-term cost.
You will experience the highest level of long-term protection against corrosion, incredible high temperatures, extremely low temperatures and fire spread to name a few.
Most structures that we protect are steel based, but within the last 5 years, we are seeing rapid development to minimize steel use and instead use aluminum or other composite materials.
The defense industry requires the highest level of durability when it comes to protection systems. We have past and current experience within a variety of industry projects focusing on the reduction of corrosion risk, fire-spread risk and wear protection. Our customers choose to use rubber-based solutions due to the reliability and long lifetime potential, minimizing cost and maximizing efficiency.